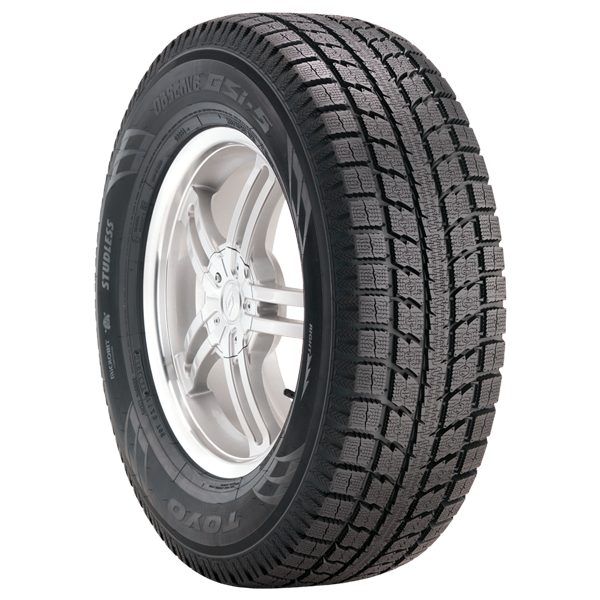 Observe GSi5
Observe GSi5 is a studless winter tyre, available in a complete size range that covers a variety of vehicles and applications from Passenger car to SUV.
Whether it's snow, slush, ice or simply slippery roads, Observe GSi5 has the technology to handle every winter condition.
Features and benefits
Bamboo Carbonic Powder
Absorbent carbonic powder made from bamboo charcoal removes the water like layer from the surface of ice. better contact with ice surfaces better traction and braking
Walnut Microbits
Micro particles of black walnut shells in the tread dig into the surface. One of the hardest natural substances, walnut is an environmental component. increased traction on ice and snow improved braking on ice and snow
Swing Sipe
Continuous Centre Rib featuring Swing Sipe. Ensures straight line stability increased traction on ice in any direction
Arrow Lift Technology
Arrow Lift Shoulder assist traction especially when tire is new Improved initial Traction
Spider Sipes
Advanced multi directional "Spider Sipes" maximum grip while cornering improved grip while accelerating or braking

Specifications
EU label column links to the European Product Database for Energy Labelling for the product specification listed.
| Tire Size | Rim Diameter | Load Speed Index | Overall Diameter (mm) | Overall Width (mm) | Approved Rim Width Range (inch) | EU Label | | | | | Rim Protector | 3PMS | Ice Grip | POR |
| --- | --- | --- | --- | --- | --- | --- | --- | --- | --- | --- | --- | --- | --- | --- |
| | | | | 0 | - | | - | - | - | - | | | | |
| | | | | 0 | - | | - | - | - | - | | | | |
| | | | | 0 | - | | - | - | - | - | | | | |
| | | | | 0 | - | | - | - | - | - | | | | |
| | | | | 0 | - | | - | - | - | - | | | | |
** Newer specification