EU Tire Label Regulations
The new EU Tire Label explained
REGULATION (EC) No 1222/2009 of the European Parliament and of the council requires that all tires* produced after June 2012 and on sale in the EU from November 2012 will either need to have a sticker or be accompanied by a label to be displayed at the point of sale. This label contains information about three important criteria that form the basis for evaluating tire performance: wet grip, fuel efficiency and exterior noise. * The scope of the new regulation includes tires for cars, light commercial vehicles and heavy trucks.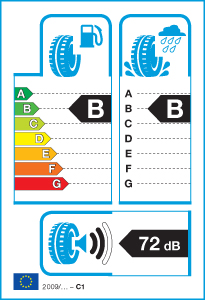 Note: Actual fuel savings and safety depend primarily upon driver behaviour.
- Driving in an environmentally concious manner can significantly reduce fuel consumption.
- Tyre pressures need to be regularly checked to provide the best wet grip and fuel efficieny.
- For safety, drivers should always ensure they allow at least the minimum stopping distance.
More information about the new tire labeling regulations is available form the following EU Commission webpage.
http://ec.europa.eu/energy/efficiency/tyres/labelling_en.htm
3 criteria:
Explanations of each of the criteria are available by clicking the above links.
Tire performances
The European Tire Label is a good indicator of basic tire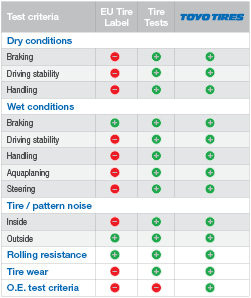 performance. However, it is far from the end of the story. Your safety and comfort demand the best performance from your tires in all conditions and for their entire life cycle.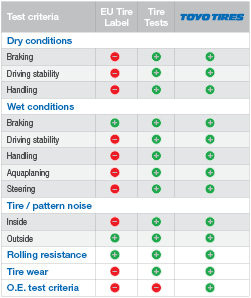 Toyo Tires is doing its best to satisfy consumers by creating products, which exceeds their expectations. Tire performances, which are not included in the labels, are checked internally by Toyo Tires technicians and can be checked according to the tests conducted by leading automobile magazines.

Toyo Tires pays attention to many parameters not covered by the new label when designing, developing, testing and constructing its tires: wet-weather handling, dry braking performance, high-speed stability, resistance to aquaplaning, wear resistance, comfort and interior noise.

In the case of winter tires, Toyo Tires also develops advanced compound and tread technologies to ensure handling characteristics, braking, acceleration and steering response at low temperatures and on snow and ice.

Together, all these criteria tell the real story behind Toyo Tires premium quality products, and guide you in buying the most suitable tire for your driving requirements.